Welcome to the Treasure Isle Wiki!

Gather, treasure hunters. Grab your maps and explore the mysterious Treasure Isle. Journey through lush tropical islands and ancient temples as you hunt for the world's most valuable jewels and artifacts.
Top Users • Play Treasure Isle• Treasure Isle Facebook Page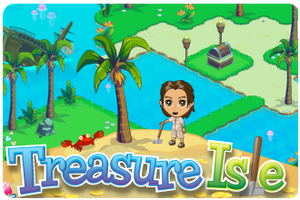 Featured Article
---
Energy is essential in Treasure Isle and it allows you to dig for buried treasures. When a user begins Treasure Isle, the maximum Energy is 100. This number increases with each additional level gained. Every five minutes the energy bar will increase by one energy point until the bar is 100% full. Each time you dig, you use a little bit of energy, depending on the Tools you are using.