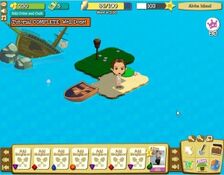 The
Boat
is the travel method for the adventurer. The boat is an item that always appears on a player's island, and on islands that the player is looking for
treasures
.
Boats as Decorations
Edit
On July 2010, new boats were introduced in the store. The player could buy them with Island Cash, and when placed add points to the Player's Max Energy. In many aspects, decorative boats are no different than Relics that just give Max Energy bonuses.
Boats for Sale
Edit
Special Boats, Floats...and Whales?
Edit
In addition to boats you could get at the Store, Treasure Isle occasionally offers up limited edition boats, floats and whales! Some of these decorations are obtained by playing Fire God Mountain and Monkey Palace, while others are available as Trade-in Rewards from seasonal Buildings such as Holiday Tree and Snowman.
Whales were released on the 6th of September, 2010 and were very limited edition. But the very next week, a whole new set of whales were released, which were also limited edition. Fail Whale was then offered via the Gift Stand and is also back in the Store.
And why not...lets put the Giant Pig Float in here, because what is a float, but a boat on land?
For more Decorations that increase Max Energy, check out: